User Interface
Menu Bar
File

New - Create new .vinci file.
Open - Open existing .vinci file.
SaveAs - Save current file with a different name.
Exit - Close the program.
Tags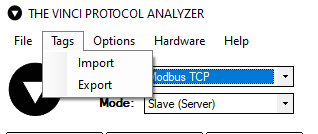 Import - import previously saved .csv file.
Export  - export currently configured Tags to a .csv file.
 To get more information about how tags work click here
Options

Settings - opens settings window as depicted below.
In this window you can choose:
The colors that appear in the statistics menu.
The format to show data. (Decimal or Hexadecimal)
Default path to save session configuration.
Hardware
The Vinci Expert device must be connected for this tab to work.
All of the settings are for A and B sides respectively except 3,4,15,16,17,18,19.
In this tab, The Vinci Expert device configuration may be changed.
Load from file - Configuration can be loaded for A and B side separately.
Save to file - Save hardware configuration for further use.
Isolate A B - by clicking this button isolation of The Vinci can be changed. It has the same functionality as the physical Isolate button.


Non isolated

The Vinci works like analyser/proble. Everything that comes to A side, comes out of B side and in reverse - what comes in B side goes to A side.

Isolated

By pressing "Isolate A B" button, it isolates serial interface A side from B side. That means Vinci works like protocol master / slave. Everything that comes to A side, comes out of A side and in reverse – what comes in B side, goes out of B side.

Reset - The Vinci Expert resets to default settings.

All previous settings, including software-defined, will be set to defaults.
When the reset button is activated all lights flash clockwise once and the power indicator stays green.

When the Vinci is programmed by software, the power indicator stays red.

Convert Fiber Optical channel from Light Off mode to Light On mode for A and B side separately.

Measure - press this button to measure Light signal power in (dBm). 820nm is nominal wavelength.

Configure pins - The Vinci Expert connects pins like in the specified configuration. (Configuration at 10)

Null cable

- by pressing this button you can switch modem cable mode to null.

Disconnect All -

disconnects all pin from connector.

Reset

- the pins will be reset to default RS232 pin sequence.
Here RJ-45 pins can be assigned with RS232 signals for both A and B sides separately
Mode - Selection between RS485 and RS422 serial interface.
Pin swap - in

RS485

A(+)B(-) differential pair can be swapped. Using RS422 mode, A(+)B(-) and Y(+)Z(-) differential pairs can be swapped respectively.
Slew rate - slower slew rate can be enabled.
Terminating resistors - selectable 100 Ohm, 120 Ohm or no termination resistor R

T

on RS485 and RS422.
The serial number of the connected the Vinci device.
About - more information about The Vinci Expert device, incl. serial number and Firmware version.
Change Port - change the control port of the The Vinci Expert device. Used when several The Vinci Expert devices are used.
Check for update - automatically updates The Vinci Expert firmware version.
Load from file - firmware can be updated from file.
Help

Documentation - links to the wiki.
About software - information about software and terms and conditions.
Settings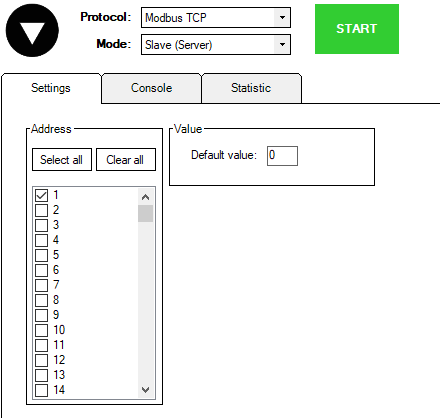 Protocol specific settings for the simulated device.
Protocol specifics can be found here
Console

Console log of all messages recieved and sent.
Statistic
In this tab you can see all the signal values that the Vinci Software has read from the configured device. In this example you can see values read from 8DI8DO IOMod after general interrogation