SNMP
Description
This article describes installing and setting up SNMP inside WCC Lite.
Install
To install SNMP to the WCC Lite you need to download .ZIP archive that has all the files necessary -> SNMP tutorial.zip
Now you need to extract the .ZIP file. You will get a folder called SNMP tutorial. Go inside it and you will find these files:

The next step is to ensure that the WCC Lite is reachable by your computer, you can do it in many ways. One of them is to connect it to your PC via ethernet cable to the WCC Lite PORT1.
After making sure there is a connection you can test it by opening your internet browser and entering the IP of the WCC Lite. If you have the default settings and WCC Lite is connected to your PC via an ethernet cable, then the IP is 192.168.1.1
Now you can open the copy.bat file. It will ask for the IP of the WCC Lite at first, enter the IP. Next is the username and password. If the defaults are left, the username will be root and password - wcclite. 
Your command window should look like this: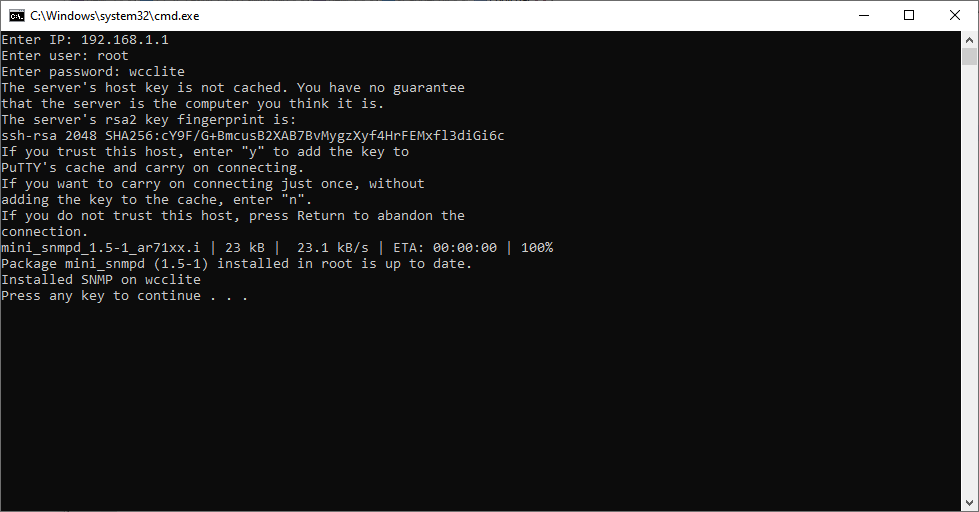 After installing you exit the command line and the SNMP is installed on your device. 
The WCC Lite .MIB file can be downloaded from here -> ELSETA-WCCLITE-MIB.mib